Education and Healthcare Facilities
Certified Industrial Hygienists at DirectCIH contribute to health and safety for employees, patients, or students. We help hospital administrators maintain Joint Commission Accreditation, NIOSH, and OSHA Standards.We provide input to environmental managers and medical personnel regarding essential industrial hygiene practices. We are always on call for sudden needs.
What can we do? Conduct scientific investigations to identify contaminants and assess air quality. Over many years, our work has included on-site real time air testing for formaldehyde, toluene, other VOCs (volatile organic compounds), mercury, and lead found in facility laboratories, maintenance departments, and waste areas. We conduct air and surface sampling for biologicals, including bacteria, viruses, parasites, and fungi followed by laboratory analysis by an AIHA accredited lab we have worked with for 20 years.
DirectCIH can provide thorough assessments of HVAC systems to ensure sufficient air changes and air quality for various locations. We critically examine ductwork, air cooling towers, and other often overlooked sources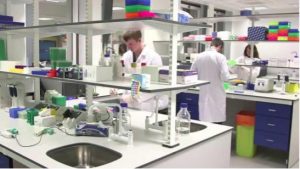 of contamination such as Legionella. We provide sound recommendations to control problems identified by measurements or monitoring results. DirectCIH also has many years of training experience for employees, from emergency response in a hospital setting to control strategies and safe work practices for chemicals such as peracetic acid.
We look forward to proving our worth to you.